Tomorrow I head to STL for Herceptin #14. I am looking forward to coming home and only having 3 left!!! Nothing like a little visualization, I say! I am visualizing myself having great labs, a fantastic visit with my dr, and an easy peesy treatment...
Focus on the goal, see the ball, be the ball...
I am also meeting up with my friend, Sue, who is having her first chemo treatment tomorrow. We have the same drs and her appt is 15 minutes before mine. I am so glad that we are going to be there on her first chemo, it always helps to have someone who has "been there, done that." So I am keeping her first treatment in my prayers, that it goes smoothly and easily for her.
Please keep us in your prayers as we travel to STL in the morning and that we have a great appt and are able to knock out #14!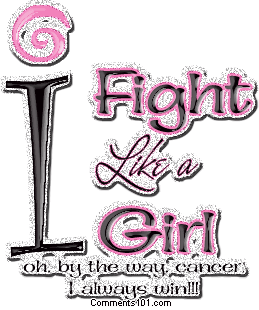 MySpace Comments